CRUISE THROUGH PRAGUE WITH COMMENTARY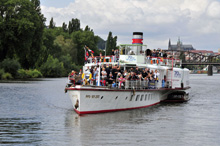 A romantic sightseeing cruise is a unique way to see the beauty of Prague and to appreciate the comfort of transport without having to wait at zebra crossings or walking in the heat of summer. Boats have been cruising on the Vltava for over 140 years and you get the great opportunity to experience the way people used to travel years ago.
Prague sights seen without rush
The river offers refreshing air and charming views of Prague's unique architecture. While cruising Prague you will get to see Prague Castle, will go under Charles' Bridge and much more. You will go past other important historic and temporary landmarks while an interesting and detailed commentary will tell you about the past and present of these places. You can choose from up to 7 languages.
Snack on Deck
The busy cruise might make you peckish. Our chef prepares for you hot as well as cold dishes along with a great selection of drinks for any weather. See you aboard and bon voyage.
Contact:
River Boats
Na Františku, Praha
Dvořákovo nábřeží, platform number 16, to the left of Štefánik Bridge
Time schedule:
October - December 2021: working days 13:00, 15:00 and 16:00, weekends 11:00, 13:00, 15:00 and 16:00.
Cruise duration: 50 minutes
Map