ST. GEORGE'S BASILICA AND CONVENT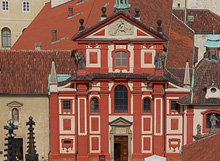 St. George's Basilica originated as the second church at Prague Castle. Only the foundations of the building, founded about 920 by Prince Vratislav I have been preserved. When the convent for Benedictine nuns was founded in 973 the church was enlarged and reconstructed.
The present Romanesque appearance of the church with main apse and two steeples dated from the time of the reconstruction carried out after the devastating fire which occurred in 1142. In the first half of the 13th century a chapel consecrated to St. Ludmila was added to the church as well as a portico on its western side. The Early Baroque period left its mark in the form of the present striking facade and the reconstruction of the whole convent. In the early 18th century the architect F.M. Kanka added the Baroque Chapel of St. John Nepomuk to the church. After the devastating occupation of the convent by troops in the late 18th century the church was renewed in the years 1887 to 1908 after a design by F. Mach, who tried to restore its Romanesque appearance. In the period of from 1969 to 1975 the convent was also reconstructed and adapted for the installation of the exposition of old Bohemian art of the National Gallery.
The interior of the basilica is Romanesque, austere and monumental. The tombs of members of the Premyslid dynasty of princes are situated in the main nave.
The southern side of the chancel is adjoined by St. Ludmila's Chapel. The convent has a simple and soberly decorated Early Baroque facade. From the eastern branch of the cloister access can be gained to St. Anne's Chapel in the convent.
Map