The Pinkas Synagogue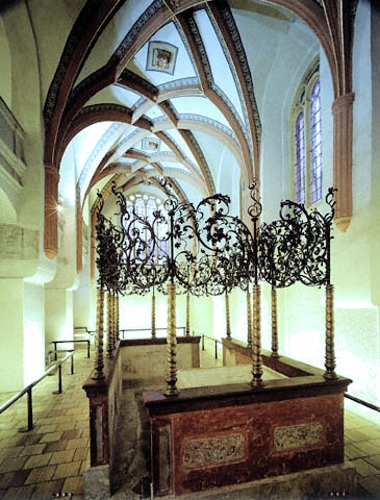 The present building is the work of the Horowitz family. In 1535 Aaron Meshullam Horowitz had it built between his house "U Erbů" and the site of the Old Jewish Cemetery. 
After the Second World War, the synagogue was turned into a Memorial to the Victims of the Holocaust (Shoah) from Bohemia and Moravia. This unique and impressive memorial was designed by two painters – Václav Boštík and Jiří John – who also hand painted the names of the almost 80,000 victims on the synagogue walls. The memorial dates from a time when Shoah commemoration was primarily an internal matter for the Jewish community. It was tolerated by the authorities because it was not in a public space. In the period after the Soviet invasion of 1968, the memorial's concealment from the public culminated in its long-term closure and the removal of the inscriptions from the walls. It was only after the fall of Communism that the JMP could begin restoring the memorial, which reopened to the public in 1996.
Permanent Exhibition Children's drawings from the Terezín ghetto, 1942-44. These pictures are a poignant reminder of the tragic fate of the Terezín children, most of whom perished. In many cases, they are all that is left to commemorate their lives. 
Map